Garden Protection Andover
If you want items for garden protection near Andover, you have come to the perfect place. At Conkers Garden Centre, we maintain a versatile stock of plant protection products so that you can conveniently keep your garden and all the hard work you put in it safe from weather, diseases and pests.
Our garden protection products near Andover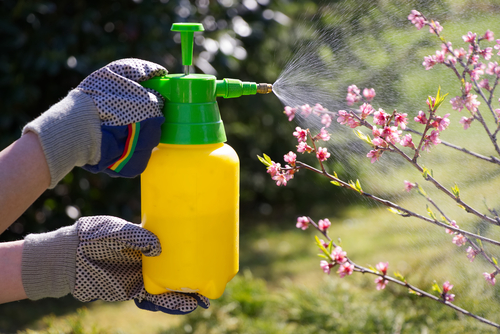 Plant protection is one of the hardest bits of gardening and every serious gardener invests sufficiently in these kinds of products. Without proper protection, you are leaving all of your plants vulnerable to a number of disastrous problems, including plant diseases, pests, and extreme weather. We help you protect your plants with the following product categories:
Keep them frost-free: You need a fleece to protect your roots, like potatoes and onions when snow announces the arrival of an English winter. You also need cloches to protect your crop from rain and gales both of which are common and frequent in Britain. Our polythene cloches and roll fleece allow you to protect your dear plants from extreme weather.
Keep out unwanted crawlers: Slugs love plants and they are hated by every gardener for it. You certainly do not want them getting to your plants because, if they do, there is no saving your hard work. So, get traps, baits, and barriers from our stock of garden protection near Andover to keep your garden clear of slugs and other pests.
Prevent weeds: Your plants need water and nutrition from the soil to grow, and weeds steal those away from them. You need to keep weeds from taking root among your plants and, to do that, you can get the right tools and sprays from our Conkers Garden Centre store.
Getting the right plant protection at Conkers Garden Centre
It is all about getting the right quality of products when it comes to plant protection. You may get a set of fancy looking cloches that start leaking in the first rain. When it comes to this sort of problem in product quality, you can rely on what you get from our inventory of plant protection near Andover.
Plant protection advice
While you are here in our premises, though, we do not expect you to have an expert opinion on what would work best for your particular plant protection problem. This is why we have a team of experts working in the garden centre and you can ask them any questions. They will be happy to help.
With our plant protection equipment in place, you can rest assured no harm will come to your beautiful garden and the plants within. Visit us any day of the week and get your plants the protection they need! Besides helping you out with the proper plant protection, we welcome you stroll around and have a look at other products we sell as well as that you can sit back and relax in our tea room.