Garden Centre Basingstoke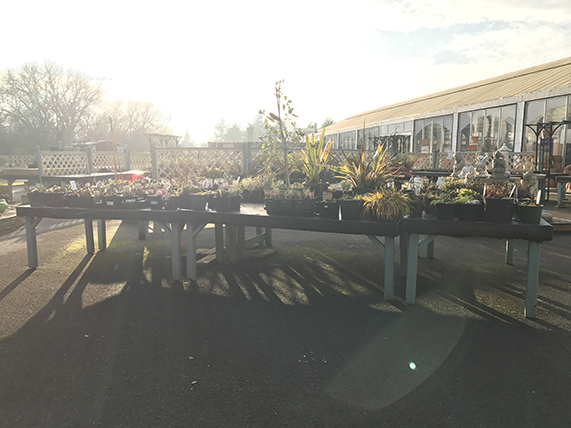 Have you come to a garden centre in Basingstoke that had everything you would need for your garden? If not, you must visit Conkers Garden Centre and, once you do, your answer to the question will change immediately. In our premises, we have numerous product categories with an endless range of products to help you get every single thing you want for your garden under our one roof.
Range of products in our garden centre in Basingstoke
A wise man once said a garden centre is known by the variety of products it keeps, and here, at Conkers Garden Centre, we are known for keeping it all. Since 1987, when this business was established, we wanted it to grow into a one-stop shop for English gardeners. We wanted to tend to all the usual needs of our customers and, over the years, we have been able to grow steadily in this direction. Our key product categories include the following:
Plants for Your Garden: We keep a long list of plants for your garden. Our garden centre in Basingstoke is packed with all kinds of plants an English garden is often seen to grow. These product lines include:
Containers: Our variety of plant containers is truly vast and comes with a lot of options for you. You can choose between plastic, terra cotta, and metal for your material. We also have pots with drainage holes for your succulents, and much more.
Soil & Fertilisers: Your garden will only grow as well as the quality of soil you use in your bedding and as appropriately you use fertilisers within it. We provide you many options in compost, stock special feeds for unusual plants, and all the popular and useful types of soil to go with them.
Garden Tools: Our garden centre in Basingstoke is stocked with all-purpose, general, and specialised gardening tools. When it comes to looking after your garden properly, you can rely on our garden tools.
Garden Furniture: To enjoy the beauty of your growing garden, use our branded chairs, benches, and tables with the right kind of parasols to get the perfect shade while sharing a cup of tea.
Landscaping: Our variety of products take garden landscaping to a different level entirely. Whether you require fencing, build doorways with pretty pergolas and arches, sun decks, or more intrinsic buildings for the garden, we have everything you need at Conkers Garden Centre.
Paving: When it comes to landscaping your garden, paving is a fundamental exercise and needs to be done early on. We have plenty of products to help you choose the best kind of paving for your garden from slabs to cobbles, setts, brick, and gravel.
Outdoor Kitchens: We have a wide variety of outdoor kitchen products based on our observation that a garden becomes more than a place to grow plants during summers. With our barbeque and other cooking equipment for the outdoors, you can enjoy a family lunch right in your garden.
Garden Protection: The more time and resources you invest in your garden the more you will have to rely on the wisdom of investing in its protection. With our range of cloches, fleece, and netting, you can protect your precious garden from frosty weather, gales and rain, and pests.
Pest Control: Speaking of pests, your garden is certainly in danger of them, too. At our garden centre in Basingstoke, you will find sprays, barriers, and organic deterrents that will make your garden from small and large pests alike.
Seeds: At Conkers Garden Centre, we have a variety of seeds for your bedding, including annuals (Such as Marigold, Nasturtium, Love-in-a-Mist, etc.), half-hardy annuals (All bedding plants), perennials (Echinacea, Rudbeckia, and grasses), and vegetables.
Watering Equipment: With the right watering apparatus, you can make the exercise that much easier. We keep a variety of watering cans, hose attachments, hosepipe bans for saving water, and automatic watering systems.
Garden Lighting: Why keep the beauty of your garden visible only during the day. Use our garden lighting products to make a show out of your pretty little garden at night time. We also keep a stock of automatic and solar lighting systems.
Get your garden essentials from Conkers Garden Centre
With so much to offer, our garden centre in Basingstoke has become the first choice for gardeners in many parts of Hampshire. Our location on London Road also makes it quite easy for visitors from other towns to find the premises and, once they discover it, they find it hard to leave in a hurry. With so much garden equipment and gardening essentials on exciting displays, our visitors often unexpectedly find an item or two they have been looking for in other places.
Buying from Conkers Garden Centre, you are buying the promise of quality, great customer support, and the best in the market, not to mention our unbeatable prices.
Get expert advice during your visit
When you visit our premises, you will find it about more than buying plants or equipment for the garden. Our product and gardening experts are always available to guide customers who are confused by the sheer variety of items we have in our many displays.
However, expert advice means more than that. With our experts at hand, you will be able to ask them specific questions about your garden's limitations (room, shape, bedding size, etc.) and they will be able to suggest products that meet your needs adequately. With experts available to help you in our garden centre in Basingstoke, there will be no need for you to worry about choosing the right options on your own.
Visiting our garden centre on the weekends in Basingstoke
We keep the garden centre open over the weekends as well with some respite in the usual hours on Sundays. You can visit us on a weekend with the family to get your garden essentials as well as to enjoy a wonderful afternoon in the open.