Greeting Cards Basingstoke
Finding the perfect greeting cards in Basingstoke is not always the easiest thing to do. There are few places here where you can go through a big enough collection of greeting cards to fit all your needs. At Conkers Garden Centre, we are making sure our customers get all the cards they want to send off their feelings with the right words and a simple design.
Perfect greeting cards in Basingstoke all in one place
The idea all of our inventories strictly follow is to make sure our customers get exactly what they want. This is why we ensure variety for every product line we share with our visitors. When it comes to writing the perfect wish in a greeting card that looks great and reads beautifully, having options is the key. We have the following kinds of greeting cards and more in our stock for you:
Birthday Cards: Probably the most popular type of greeting cards. We have a range of these in numerous designs, various colours, printed-in messages, as well as age-specific cards.
Anniversary Cards: Relationships need to be celebrated, particularly those that keep coming through the test of time. With this spirit in mind, we keep many lively and invigorating anniversary cards so you can show the couple how much their relationship means.
Wedding Cards: If you are in need of writing a card for a couple tying the knot, we have a bunch of greeting cards in Basingstoke that go well with the wedding festivities. Choose one.
New Baby Wishes: Growing families make for celebrated occasions. If a friend or sibling has recently had a baby, send them one of our new baby wishes cards to congratulate.
For more occasional products, visit our home and gift page.
Getting greeting cards and more at Conkers Garden Centre
Interestingly, when you are picking a greeting card for the occasion, why not send them something along with it? After all, if they are celebrating a birthday or any other achievement, do they not deserve a gift?
Think about it and tick the present off your list while you are visiting Conkers Garden Centre to buy one of our greetings cards in Basingstoke.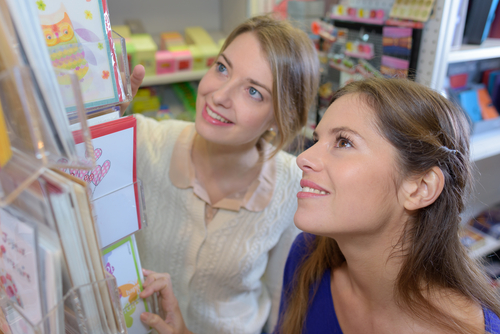 Sending best wished over the right way
Greeting cards are all about sending the perfect wishes and you cannot do that without writing them perfectly. So, if you are over in our store and you have found the perfect card but having difficulty deciding what to write in it, talk to one of our team members and they will help you write the perfect message for your friend. Apart from the most popular kinds of greeting cards listed above, we have many more, including Christmas cards, seasons greetings, New Year cards, etc.
Visit us whenever you need the perfect greeting card for somebody.